This weekend I was asked to be part of a panel discussing (Curating "Muslim Art": in between Islamic and Contemporary Art).
This is part of Here & Now 16 / GENYM Forum which is a public program accompanying an art exhibition with the same title. The exhibition features work by young Muslim Australian artists and curated by Hamida Novakovich who is also a young Muslim Australian curator.
The day had three sessions.
The first session: Curating "Muslim Art": in between Islamic and Contemporary Art.
The second session: The Lost Art of Story-Telling: From the Personal to the Political.
The third session: Issues of Censorship: Gender, Sexuality and Artistic Expression.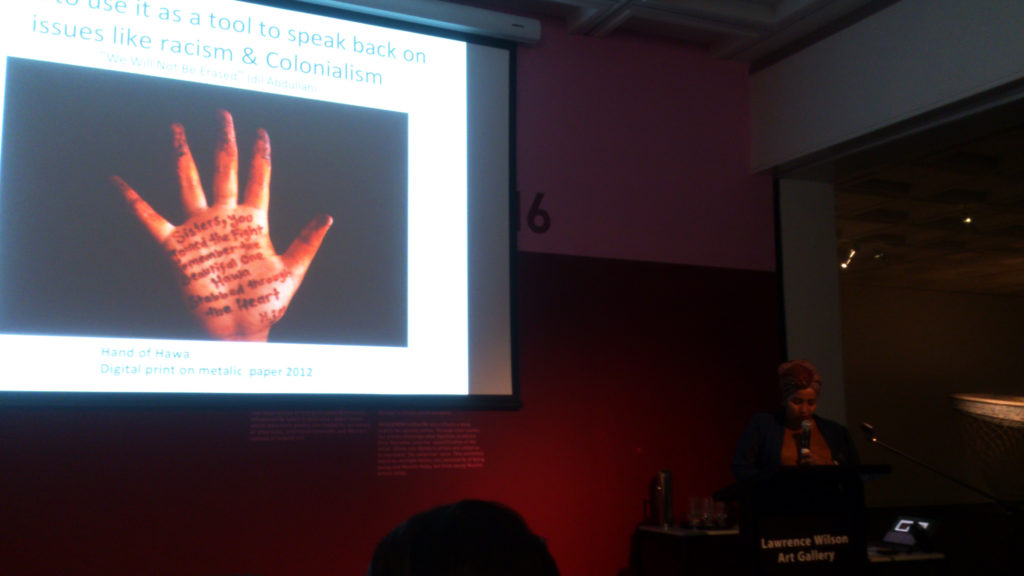 The speakers mainly featured some of the artists from the exhibition.
Some of the highlights were:
Abdul Abdulallah who spoke on the same panel with me said something that resonated deeply with me. He said: "I don't speak on behalf of Muslims. I speak as 'a' Muslim". This is a statement that I found many Muslim artists say over and again. We as artists don't speak on the collective identity because there is no such thing as one unified Islamic identity. Yet somehow we always find ourselves having to speak on behalf of all Muslims.
During her presentation Idil Abdullahi broke into tears. I found that very moving. Not because I know her and we are friends. But because that is what art is all about. Stripping yourself down to your own fears, challenges and dreams. It is raw. Her work always fascinated me as they contain more layers of meaning and social commentaries than meet the eye.
Fatima Mawas hit another sensitive core when she said that in the West they prefer to see Muslim women in front of cameras instead of behind cameras. And this was and still is her biggest challenge as a filmmaker.
I think that the real agency for us as Muslim artists comes down to this point. Listening to us on our own terms.
Following the last session I had to pose a question, which caused a bit of unease among the audience. My question was directed to Fatima and artist Nadia Fargaab. Both of these artists once wore the Hijab. Fatima identifies as queer.So I said that the West would love them, that this is the kind of stories white feminists would endorse. So how do they make sure that their voices through their artworks are actually their own and not playing to that preconceived sensationalized expectations. They both understood my use of white feminism and how they and I as women of color are critical of the wider feminist movement. But that is a whole different subject that I hope to write about in another post.
One lady from the audience however didn't like our suggestion that there is a divide in the feminist movement.
During this intense day of discussions and reflections it was clear that Muslim artists are critical, aware and free-minded. They have loads of new perspectives that challenge even the preconceptions of those with progressive ideas.
The last slide in my presentation read: "Make art that matters". And after seeing the artworks and listening to the artists involved I can see that these Muslim artists are doing that already. They are producing art that matters to them and should matter to everyone sincerely wanting to have better understanding by listening to Muslims.
The exhibition is held at Lawrence Wilson Art Gallery at University of Western Australia. And is still on till 16th July. Do visit it if you are in Western Australia.